I know I told myself I was not going to buy any fabric, but I did it anyway. Hey, I'm a woman and it's my prerogative to change my mind as many times as I choose.
Here's my fabric. A Michael Miller design that has the lovely Parisian cafe artwork.
You may remember that Bernie Dexter chose this for one of her Swing Dresses last year. That's how I fell madly in love with the design.
Well, now I'm not sure which pattern to choose. I had my eyes on one, then I found this great 1940s day dress pattern perfect for a war years look and then from the new Amazing Fit patterns from Simplicity there's two looks I love as well.
Pattern #1
Pattern #2
Option B is my favorite and the first one that caught my eye. Love the sleeves.


Pattern #3
Option B has a great mix between war years and new look that I love.
Finally there is pattern #4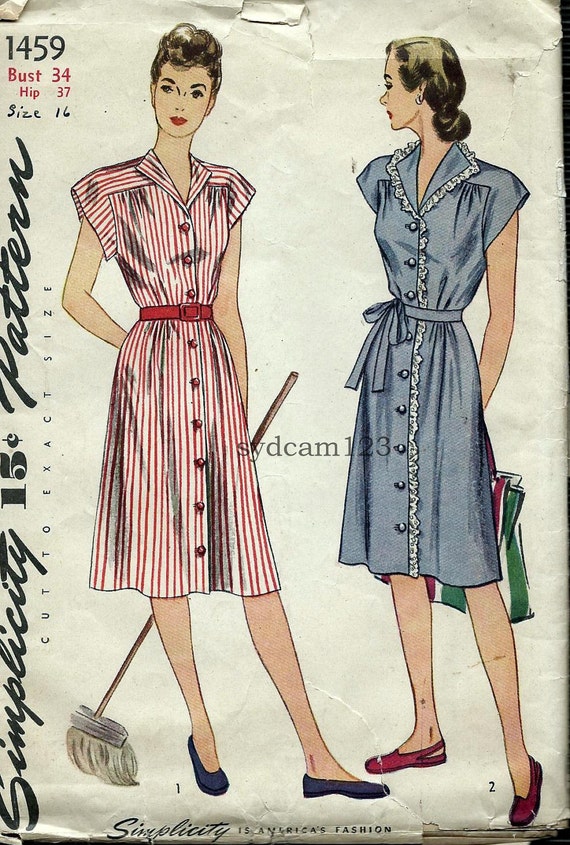 I love option 2 without the belt. I don't really feel tie belts give the best definition. So I'll probably just use one of my own leather belts.
Now if I chose pattern #3 I'd have to get some contrasting fabric, which won't be difficult. I wouldn't need much of it. If I were to choose pattern #4, I will need some buttons and then there are so many to choose from. Do you think rose buttons would work??

I'm new to sewing with reproduction and vintage patterns and seeing all these patterns, I have no idea which one to choose. All of the simplicity patterns would be good for me since I have never advanced past the beginner level, yet I love the style of the Butterick pattern. Another thing...would it be weird if I chose a the 1930s style butterick pattern since the ladies on the fabric are sporting new look frocks?? I was thinking it might be best to go with a 1940s style dress.

Completely off topic, but wouldn't it be nice if patterns cost 15 cents like the last one states??